If you've been thinking about taking the plunge and moving into an RV of your own, you're going to love the 2019 Airstream Globetrotter. This RV has a variety of incredible options and features you're certain to love. Whether you've lived in an RV before or this is your first experience with something like the Globetrotter, there are several things you need to know.
It's convenient
Living in the Airstream Globetrotter is convenient. Everything you need is within arm's reach. This particular model is incredibly organized with plenty of room for all of your belongings. It's easy to set up, easy to move, and easy to get around in. With your own bathroom, shower, and kitchen, you'll be able to do all of your normal activities on-the-go.
It's cozy
The 2019 Airstream Globetrotter comes with a cozy bedroom designed to give you a great night's rest. It's the ultimate camping-in-style experience since you'll be able to completely relax in the comfortable bed. Enjoy panoramic windows which give you unbeatable views of your location. Want to sleep in? No problem. The included blackout curtains will enable you to do that easily.
It's got storage
Have personal belongings? Kitchen equipment? Camping supplies? Don't stress. With the 2019 Airstream Globetrotter, you'll be able to store your items comfortably and conveniently within the RV itself. This model truly makes the most of all its available space. It even comes with a pull-out kitchen pantry and microwave for easy cooking options.
It's comfortable
Whether you want to live in your RV during the winter, the summer, or year-round, you'll be able to enjoy complete comfort with the air conditioning and heating options included in the Globetrotter.
It's got plenty of gadgets
Enjoy a Polk audio system with Bluetooth, Samsung LED HD TVs, a Blue-Ray DVD player, USB ports, 110V outlets, as well as power stabilizer jacks and a solar pre-wire kit. When it comes to your absolute comfort, the Globetrotter has you covered. Enjoy all of your favorite relaxation activities even while you're on the move.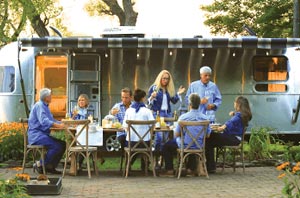 Ready to learn more? We'd love to talk with you about your options for the future. Investing in a 2019 Airstream Globetrotter can be an incredible experience and we want you to have the very best. Stop by our dealership to meet with an agent to discuss your options. You can also call us at anytime with questions or to schedule an appointment at a time that's convenient for you. We understand that your Airstream Globetrotter will become your new home and we want to help make sure you receive only the very best. Don't delay in treating yourself to a fantastic living experience even when you're traveling the world. Give yourself the gift of a Globetrotter.