The all-new 2015 Coachmen Prism LE motorhome can be best described as an RVer's dream. Lavishly styled, the RV features a grand collection of high-end amenities and an incredible selection of available options that appeal to a variety of buyers. Potential owners of the motorhome will also be able to enjoy ample space, which can be expanded or minimized depending on their choice of interior components. With all of these attractive features and more, the 2015 Coachmen Prism LE is a first-class RV suitable for extensive travel and it's available at Reliable RV – your local dealer.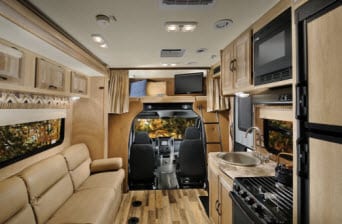 Over 25 feet long and eight feet high, the 2015 Prism LE is considered a Class C motorhome, offering a wealth of room and features for RV lovers to take advantage of. It sports an 80" full length with an optional Serta mattress, thermofoil countertops/dinette table, a fully equipped kitchen, bathroom, cabover bunker and day/night roller shades to keep the sun at bay. Due to its large size, the RV also comes with a backup camera, giving drivers extra visibility when backing out of parking spaces. Additionally, buyers can acquire extra options, including an outdoor shower and a TV with DVD player, enhancing luxury throughout the cabin.
Fitted with a 3.0L V-6 engine, the 2015 Coachmen Prism LE also delivers an exceptional 188 horsepower and 325 lb.-ft. of torque. If this sounds like what you're looking for, you can check out our online inventory at Reliable RV for each model in stock now.