Spring is around the corner and you may be itching to get your RV out of storage and ready for the next adventure. Before you take your beloved rig out on the road, you should take some time to undo everything you did to winterize and store it. Essentially, you will need to "de-winterize" it and get it prepared for spring use. This seems like a huge undertaking to some. However, it can be done in no time at all. The sooner you get started, the sooner you will be on your way. Below are some tips for getting your RV ready for springtime use.
Inspect And Clean Exterior
The first step in trying to de-winterize your RV is cleaning the outside and inspecting everything. While cleaning off any dirt and grime which accumulated over the winter months, take time to inspect the surface of the vehicle. Check for any dents or breaks in the seals. It is important to wash your RV by hand. Try to avoid breaking out your power washer to get the job done quicker. The pressure washer can do more damage than good. It could damage the finish and paint job and allow water to get under any broken seals.
Inspect Awning And Roof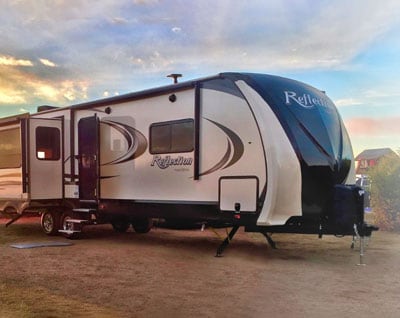 Your next step will be to inspect the RV's roof for any damage caused by branches, sap or general sun exposure. Be sure to repair any cracks you find using the correct product for your specific roof. Additionally, open your AC cover to inspect the fins of your condenser for damaged as well. Clean or replace your return air filters and turn on the air conditioner to check for any unusual noises or vibrations.
It is also a good idea to roll out your awning to check if it has holes needing patched or if it needs a deep cleaning. Dirt collected on your awning can find its way into the mechanisms necessary for retracting it and can cause it to get stuck.
Check RV's 12-Volt System
Normally, you remove your batteries for the 12-volt DC system before winter. Now that you are getting your rig ready for the springtime, check the system for corrosion. Be sure to clean, tighten and dry the terminals. Check the water level and add distilled water if it is low. Be sure to give your battery a full charge to reduce the risk of sulfation and acid stratification which can kill your battery quickly. Be sure to give your battery a test to ensure it's working properly.
Clean Fresh Water System And Tanks
Before heading out, it is also a good idea to clean and sanitize your water system. You will need to sanitize your anti-freeze before putting it back into the system. Once you're done cleaning the water system, you should hook up your sewer valve to fill the black tank. Dump the tank and continue flushing it until all water runs clear.
Getting your RV ready for spring is an important task. If you need help getting yours ready for the road, visit Reliable RV in Springfield for more information. You are also welcome to visit the dealership with any questions you might have about your RV.