RVs have always evoked a sense of excitement in travelers. After all, what is better than have a comfortable home away from home out in the wilderness? Just as with everyday vehicles, technology has become a huge part of new RVs. Cell phones are not the only technology to get travel information or manage in-vehicle entertainment. Big vehicles call for big, next-generation infotainment systems to aid your travels. Here are some of the latest systems available in our RVs.
Garmin RV-IN501
Garmin International has always been an innovator in navigational systems. The recently released RV-IN501 is made especially for RVs and features an edge-to-edge 15-inch touchscreen that gives users easy-to-see directions and related information while traveling. The device has three different modes: driving, mobile, and entertainment. The extra large screen is particularly useful for the RV-specific information and mapping that comes with this unit. Users won't get information that can be applied to just any vehicle but will also receive custom routing applicable to the size and weight of your RV; Road warnings for bridge heights, weight limits, sharp curves and steep grades; and bird's eye views and photoreal views of upcoming junctions. Drivers will also enjoy spoken directions and lane guidance. The RV-IN501 also has an RV-specific directory of over 9,000 locations that details prices, opening times and other pertinent information.
The RV-IN501 also is a fully functional media hub that also provides audio entertainment and onboard system monitoring in addition to the ability to view four vehicle cameras. Garmin's FUSION audio distribution network provides drivers and passengers with a perfectly synced audio source. Users can customize audio in any section of the RV for superior sound. An innovative switching system also allows you to manage entertainment options while also monitoring the various operating systems within your RV. Downloading a free app also allows users to control entertainment options directly from their smartphones.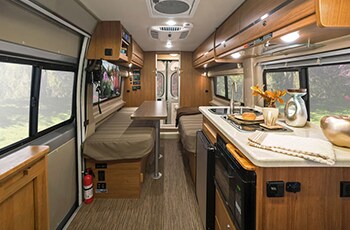 Winnebago Infotainment Center With RV GPS
Winnebago equips many of its RV models with an infotainment system that also has RV-specific directions and information powered by Rand McNally. The screen here, however, is smaller at only seven inches. RV-specific GPS features include advanced lane guidance, toll costs, junction view with lane assist, quick view displays of amenities at upcoming exits and warnings for speed limit changes, sharp curves, direct roads, and other hazards. Users can also use a route comparison feature. The Points of Interest screen has categories for RV campgrounds, RV services, parking rest areas, travel centers, and Rand McNally Editor???s Picks that detail the best of adventures, trips and getaways.
The Winnebago system connects to the vehicle's AM/FM radio and CD/DVD player, includes a handheld remote and provides iPod/iPhone integration and Bluetooth capabilities. SiriusXM is also available with a subscription.
Curious about how new infotainment systems can enhance your next RV? You may contact us at Reliable RV or stop by our showroom to speak with one of our knowledgeable staff members to learn more.