Your decision to invest in a recreational vehicle RV is a wise one. RVs provide an alternative to hotels, motels, and inns when traveling from coast to coast. Campers also provide the convenience of going wherever you want whenever you feel like taking a trip.
Some RV owners are devoted to their motorhomes through thick and thin. There are others, however, who trade in their campers whenever the opportunity arises. It is important that you keep your RV in good shape if you plan to sell it in four or five years. Here are five tips that may help you get the most out of your RV resale experience.
1. Keep all of your maintenance records
Prospective RV buyers love it when sellers take pride in their campers. There is no better way to show a potential customer that you took care of your camper than by showing him the receipts from repairs and regular maintenance appointments.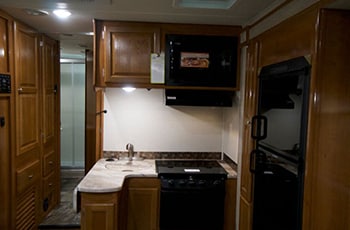 2. Consider upgrades that bolster convenience
Buyers like the ease that comes with having a remote control for slide outs and levelers. RVs with push-button access to accessories and essentials are also ideal.
3. Focus on storage space
Part of the purpose of using an RV for trips is to be able to take more along for the trip. You do not, however, want to feel cramped while bringing an abundance of items with you on vacation. Unique storage spaces are the key to feeling at liberty while bringing everything that you need on the road. Buyers may be more inclined to purchase an RV that offers various compartments for storage rather than invest in a camper with open space.
4. Consider the entertainment system
Flat-screen television sets and surround sound are some features that attract buyers. You may want to think about investing in an entertainment system upgrade to make your camper more appealing and, thus, drive up the resale value.
5. Maintain the safety of the camper
Travelers with children are especially keen on safety features that make the trip less risky. Solar panels and rear-mounted cameras are two of the many ways that you can spice things up in the safety department.
While there are no rules requiring that you keep the same RV for life, you should, however, consider investing your time and money in amenities that will make your resale value soar if you hope to sell your camper in the near or distant future.
If you'd like more tips on how to maximize the resale value of your RV, you may contact us at Reliable RV or come into our Springfield dealership and speak with one of our sales professionals.